SUBMERSIBLE VORTEX PUMPS

Flygt vortex pumps are designed for reliability.
The impeller does not require adjustment and runs freely in the volute, providing free flow-through passage of solids and liquids.
This completely eliminates the risk of jamming and low performance that results from faulty impeller adjustments and wear.
Plus maintenance is reduced to an absolute minimum.

The high quality and unmatched performance of the Flygt D 8200 submersible vortex pump comes from Xylem, the world-leading
manufacturer and supplier of submersible pumps.

Engineered for demanding environments, the Flygt D 8200 easily transports media for municipal sewage, industrial wastewater and
a wide range of other applications. All components are specially designed and manufactured to optimize operation and prolong pump
service life.

The Flygt D 8200 has very low maintenance requirements due to reduced radial forces on the impeller, which enables operation at
very low flows or shut off for extended periods of time without damage. The Flygt D 8200 vortex pump series complements the Flygt
3000 range of small and medium-sized pumps.

Options :

- 20-meter cable
- Explosion-proof version
- Voltages:
– 380V or 415V for three-phase version
– 220V and 240V for single-phase version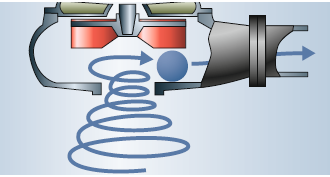 The powerful pumping action of the vortex impeller
nables easy passage of liquids and solids.