SUBMERSIBLE WASTE AND RAW WATER PUMPS

Flygt submersible pumps for a variety of applications
Submersibles Flygt pumps operate directly in the liquid being pumped, which means they require neither special housing nor a uperstructure to support them, considerably reducing construction costs. They are smaller than non-submersible counterparts as the
motor and hydraulics are integrated into one compact unit, resulting in smaller pumping stations that are less complex to build.
Operating submerged they take up less space, and noise and cooling problems are virtually eliminated. This series of pumps has an extensive performance range and can be used in a variety of applications :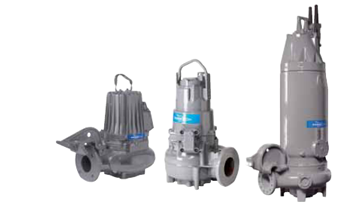 Product quality in every detail

Motor
Squirrel cage, high performance induction motor,specially designed and manufactured by Xylem for submersible use. Stator windings are trickle impregnated in resin to class H insulation and rated at 180° C Many units provide up to 30 starts per hour.
Shaft
A short overhang of the shaft virtually eliminates shaft deflection. This results in significantly increased seal and bearing life, low vibration and quiet operation.
Seals
Two sets of mechanical shaft seals that work independently for double security. Designed, patented and manufactured by Xylem.
Oil housing
In addition to lubricating the seals, the food-grade oil filled compartment diffuses heat from the motor and the bearings.
The housing also provides additional security against
penetration by liquids.
Impeller
The Flygt Nevaclog® impeller is designed specially for smaller Flygt C-pumps. Our Flygt Nevaclog® has exellent flow passing properties, because parts that might cause clogging in the impeller channel have been eliminated. This, coupled with the volute's design is what enables wastewater to flow freely.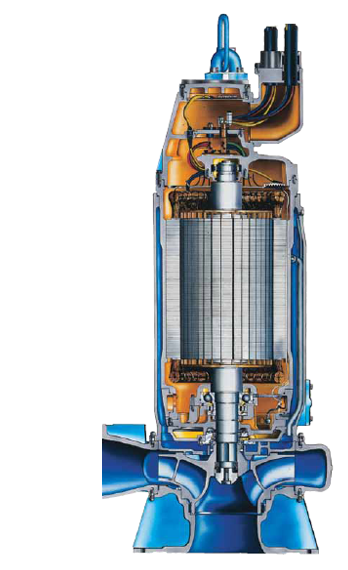 - Pumping sewage in municipal applications
- Irrigation
- Industrial effluent
- Cooling water
- Storm water
- Process water
- Raw water
Seal wear protection
Spin-out™ is a patented design that protects the outer seal by expelling abrasive particles from the seal chamber. As an integral part of the cast-iron housing, Spin-out™ is as simple as it is effective.
Monitoring
Thermal sensors embedded in the stator windings help prevent overheating.Leakage sensors in the stator and oil housings, together
with external monitoring equipment, are available as options.
Cable entry
The cable entrance is designed to incorporate both a seal and a strain relief function.
International standards approvals
All pumps are tested and approved in accordance with national and international standards (IEC 34-1 CSA). They are also available in explosion-proof versions – Factory Mutual and European Norm (FM and EN) approvals.
Cooling System
In normal applications the surrounding liquid cools the pump motor.In more demanding applications, or when dry installed, the pumps
can be fitted with an integrated cooling system.