"For decades whenever a dewatering
challenge seemed too tough or too harsh,
the answer has been simple, Flygt BIBO.
So how do you improve upon a legend?
Easy, we created a new one. Introducing
the new Flygt BIBO."
You want to be able to switch on our pumps and forget about them.
That's why we have dry running in the basic design, reduced the
number of parts to make maintenance and inspection far easier as
well as increasing uptime with wear-resistant hydraulics that mean
these pumps can take a beating and still keep running.

Over the years Flygt BIBO has meant reliability. Now a new legend
rooted in tradition brings dependable dewatering to future generations.
Flygt BIBO, still a choice you never regret.

Innovation to battle downtime
We'd love to tell you what we've developed to make the Flygt BIBO
a pump that just keeps going and going. Things like wear resistant
hydraulics, Dura-Spin™, Spin-Out™ and Hard-Iron™ impeller.
However we're afraid we might put you to sleep. On second thoughts

maybe we should, because with the new levels of pump uptime your
sleep won't be interrupted by having to fix pump problems.

Reducing costs
What are your service personnel going to do with all the freed-up
time they're going to have? With the fast impeller adjustment and
easy access inspection, the time needed to service your pump has
dropped to a minimum. With the ability to run dry your staff will
spend less time babysitting your pumps and more time doing
what they came to do.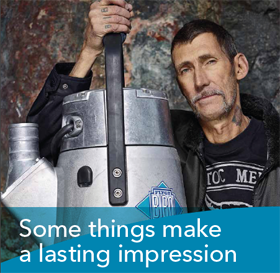 APPLICATIONS
With more than 60 years' experience
supplying dewatering pumps to some
of the most demanding sites around
the world, Xylem has designed the new
Flygt BIBO series to stand up to the
toughest conditions.
Mining & Quarrying
A reliable and robust dewatering
system is critical on any mining site.
Despite the difficult and demanding
nature of these environments, Flygt
BIBO easily handles any dewatering
challenge in open-pit or underground
mines and quarries.
Construction & Tunneling
The ideal choice for tough construction
site dewatering tasks, whether it is active
or reactive dewatering of ground water.
With the new adjustable handle these
pumps can be simply and safely moved
to another part of the site once they have
completed a task.